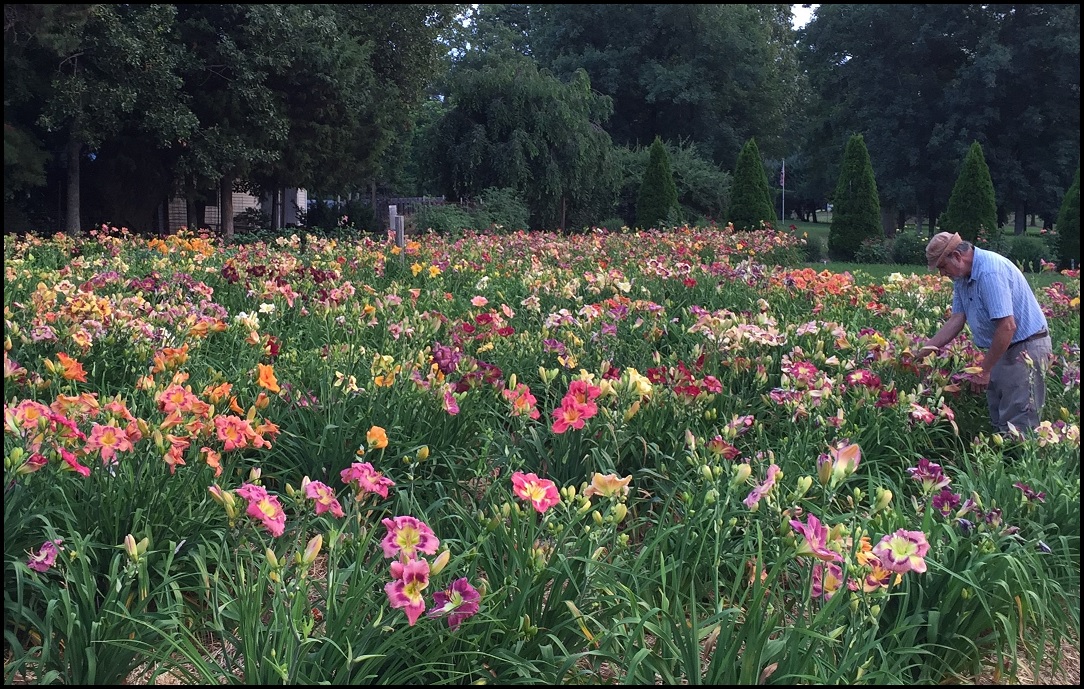 Each one of these daylily seedling flowers was photographed by me in the growing beds of my one-acre backyard garden.
I have selected for large, flat, full-formed flowers for many years and have seen progressively larger sizes on typical blooms each year. The average size of the bloom on my daylily seedlings has been 6 inches in diameter in the past.  Now, not only in my garden has the bloom size increased, but all over the country, hybridizers are reporting larger flowers.  Since 7 inch blooms have become less exceptional, I have removed my 7-inch blooms from my large-flower gallery.   Instead, I am showing four blooms that are typically 9 inches in diameter and three blooms that are typically 8 inches in diameter.  I have included photos which have a tape measure included on the photos of these big flowers to offer some perspective on the hefty size of these largest blooms.
Nearly all of my daylily seedlings are located in a full sun growing area in my garden. They receive a fertilizer application in the fall and an alfalfa mulch each January. They are very well watered each summer.
Each flower photo has a caption with coded information which I use to identify potentially good parents for hybridizing. The last two numbers of each flower I.D. show the year in which the seedling was selected for evaluation. Dor is dormant, SEv is semi-evergreen, and Ev is evergreen. EMO is early morning opener. Descriptions of sun resistance and substance are fairly self-explanatory. A d.f. by a price for a plant stands for double fan (rarely, s.f. may be seen representing single fan).  Finally, my own coding regarding daylily rust resistance is included, since we are located far enough south to see daylily rust each and every year. RR means totally rust resistant (in this garden), HR means high resistance to rust, MR means moderate resistance to rust, and PR means poor resistance to rust. My web page on plant performance goes into the subject of rust resistance and sun resistance in more detail.
Each gallery is shown in the drop-down menu under the 5 Seedling Galleries heading on the Main Menu at the top of each page. Clicking on any photo will enlarge the image; using the back-arrow at the left top of the page will return you to the photo gallery.  These gallery photos need two clicks for full size, one for a separate display page and the second click for the enlargement (sorry, website updates, not my idea).