I accept Paypal or check as payment.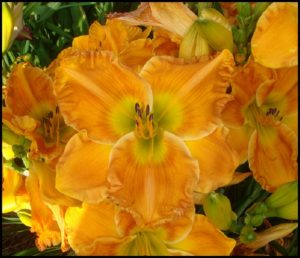 For Paypal:
1. log into your Paypal account
2. select "Send and Request" option on blue line, then "Pay for Goods or Services"
3. enter my email address (sigday@hotmail.com)and the charge for the daylilies plus shipping cost
4. in Add a Note box, type your email address, names and number of daylilies ordered
5. also in Add a Note box, type your shipping address if different from your mailing address
When Paypal notifies me of the order I will email an invoice to you to confirm the order, showing that I have received "payment in full" and have scheduled a future shipping date.
For payment by check:
Order with a note to me or by email (sigday@hotmail.com) and pay with check payable to Ron Reimer, 158 Cliff Rd, Russellville AR 72802. If you are in the U.S., I am available to speak with you on the phone about my daylilies. I will be happy to call you if you email me and give me your name, phone number, and a suggested time for a phone conversation. To resolve an issue that is urgent (such as a plant availability question) call me at 479-964-2515 between 8 a.m. and 5 p.m. central time.
Double fans will be provided whenever possible; you will be notified if single fans only are available. Blooming sized plants will be dug the same day they are shipped. Shipping cost is $13.60 for an order of 1 – 5 plants, and $15.00 is the charge for an order of 6 plants and up. Vigorous healthy plants will be shipped bare root by USPS Priority Mail.
The shipping window in this area is mid-April through mid-May for Spring orders and mid-September through the end of October for Fall orders. Considering the unseasonable weather that is the "new norm" I think that every shipping date needs to be confirmed by email, just to make sure the plant has the best chance of tolerating the transport to the new location. I do not ship outside the U.S.